Belgrade Rocks
(Page 2 of 5)
Then, as now, Old World restaurants impressed with succulent peasant-style masterpieces ("they cook lamb and suckling pig as well as anywhere in the world," she wrote). Then, as now, the city was full of passionate, vigorous people "who speak and laugh and eat and drink a great deal." And then, as now, Belgrade sagged under the weight of its history. Suffused throughout it, West observed, was "the stench of empires."
It was not a poetic exaggeration. For more than a millennium, the city squirmed in the crosshairs of its hostile neighbors: Byzantines, Bulgars, Hungarians, Austrians and especially Ottoman Turks, who conquered Belgrade in 1521 and administered it ruthlessly for most of the next three centuries. Together and separately, those powers battled each other and their Serbian subjects in a round-robin of hatred and cannon fire.
In 1941, just after West's Balkan travels, the Nazi Luftwaffe swooped into the city with more than 900 planes, leveling half of its buildings on a single day in April. Mr Milosevic's deadly campaign in Kosovo - he is charged with genocide - brought in the bombers once again, this time NATO's. Seven decades after West composed her lines, her description of Serbia as "a new country that has to make its body and soul," seems as valid as ever.
One wonders what she would say of the post-Milosevic period. Unemployment remains rife. The former Prime Minister Zoran Djindjic, a reformist who was instrumental in sending Mr. Milosevic to face trial in The Hague, was assassinated in 2003. Nationalist, anti-Western parties still enjoy support, and foreign governments have accused Serbia of dragging its feet in rounding up fugitive war criminals from the conflict in Bosnia.
On the other hand, the nation has a progressive democratic president in Boris Tadic, a firm handle on the once-ravaging inflation problem and increasing foreign investments. "Airport City Belgrade!" shouts a huge sign next to a construction site on the highway just outside the city. "First Business Park in Serbia!"
Five years after the ouster of Mr. Milosevic, says Veran Matic, a journalist instrumental in the anti-Milosevic campaign and a founder of the B92 independent media group, Belgraders teeter between cynicism and "a kind of hidden hope and a belief in Serbia's wondrous resurrection."
While the streets of post-Milosevic Belgrade may not win a beauty contest anytime soon - rusty trams, drab midcentury buildings and stately but dilapidated 19th-century edifices still dominate the gray cityscape - some glimmerings of the resurrection that Mr. Matic sees are in evidence. In Republic Square, where the ocean of demonstrators and flag-wavers made their most passionate stand against Mr. Milosevic, construction teams are busy renovating the grand National Museum. Green Wreath Square, where the main outdoor market normally operates, is getting a similar makeover.
State-run Communist-era hotels are being privatized and boutique hotels like the smart, crisp Petit Piaf have begun to appear. Style-conscious restaurants, once unheard of in a land of pork-and-potato places, proliferate.
But it's the electricity of Belgrade's street life that makes the greatest impression. "Belgrade," Mr. Matic says, "is a very exciting city for anyone who expects to feel pure human energy."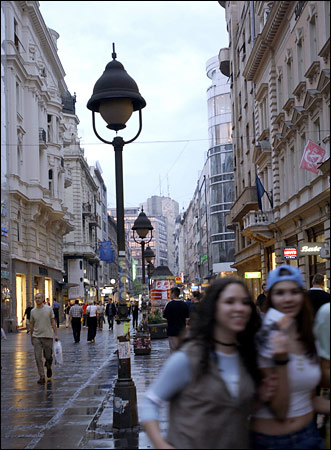 You feel it along Knez Mihailova, a boulevard of fountains and Art Nouveau details where streams of D & G-wearing women strut past showrooms of Italian furniture, and preadolescent Gypsy musicians thrill the passing throngs with virtuoso fiddling. You feel it within the narrow passages of the Kalenic outdoor market on Njegoseva Street, as neighborhood residents shout "Koliko? Koliko?" ("How much? How much?) at the phalanx of elderly women in headscarves selling all manner of sausages, produce, nuts, dates, batteries, hair dye, sweaters, rice and deodorant.
You feel it especially in crowded Kalemegdan Park, a green swath overlooking the confluence of the Sava and Danube Rivers that West called "the special glory of Belgrade and indeed one of the most beautiful parks in the world." Formerly the citadel of Belgrade, Kalemegdan was long the bull's-eye that foreign invaders variously charged, captured, built up and eventually lost. The Roman well, the Turkish mausoleum, the Austrian clock tower and other abandoned relics form an Ozymandian graveyard of vanished dynasties.
But come dark, a number of outdoor bars and nightclubs sprout in the recesses of the park, and the cemetery of empires is reborn as the booming, cocktail-soaked cradle of Belgrade decadence.
Previous Page
1
2
3
4
5
Next Page