Belgrade Rocks
(Page 4 of 5)
As the final number ends and people start to shuffle out over hills of crushed beer cans, the lead singer, Zoran Kostic, leans into the mike and offers a final message: "Sacuvajte svoje duse" ("Save your souls").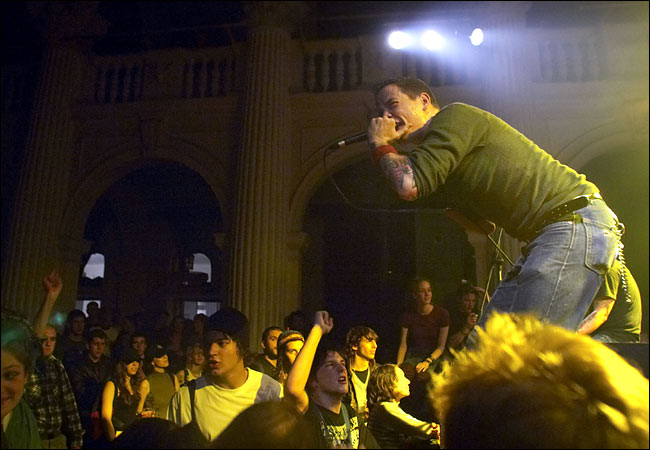 Punk rock fades to club beats the next evening as a slew of international D.J.'s hits town. While Mr. Selway presides over the turntables along the Sava at Exile, the Israeli trance-music guru D.J. Goblin spins to a sea of bobbing heads at the Baratuna club, and the Shapeshifters, British house-music masters, conjure their mixes at Bassment.
But it's the quiet, historical neighborhood of Zemun that plays host to the weekend's - and the season's - splashiest night-life event. There, as black S.U.V.'s idle outside, a flashbulb-popping crowd of the nation's most famous faces - soccer heroes, music idols, captains of industry - celebrates the opening of a swanky bar-restaurant called Eklektika. With its gauzy white rooms and ambient music, it feels like the sort of place where the "Sex and the City" quartet might schmooze - if their names were Jadranka, Desanka, Zoja and Kaja. But in spite of the sushi rolls and Slovenian wine, at least one V.I.P. is hiding out in a private room and waxing slightly nostalgic tonight.
"It used to be a positive thing to be a Yugoslav," says Dan Tana, the Serb-American whose namesake Hollywood restaurant is a favorite film-star hangout, with a sigh. "Milosevic did more damage to Serbs than Hitler did to the Germans."
His somber remarks, at first, seem to have sprung from the same undercurrent of wistfulness that West found so many decades earlier. "Autumnal doubtfulness," she eloquently called the mood.
Then, suddenly, Mr. Tana's face lightens. Just outside the door, ringing cellphones, clinking glasses and greetings of "dobro vece!" ("good evening!") filter through the soft-glowing, milk-white rooms.
"But I've brought many Americans to Belgrade, and they all fall in love," Mr. Tana goes on, passionately. "Our future is bright, but it's going to take time."
IF YOU GO
Getting There
Visas are no longer required for American citizens traveling to Serbia and Montenegro for up to 90 days.
While there are no direct flights from the United States to Belgrade, several European carriers fly there. A recent Web search for round trips from New York in late October found a wide range of fares, starting at $535 on Lufthansa through Frankfurt, but with most over $800.
Getting Around
At the airport, avoid the renegades approaching you with "taxi?" come-ons since legitimate cabs must be called (and should cost about 600 dinars - about $8.50 at 73 dinars to the dollar). But the JAT airline bus, which you can catch on the curb just outside the terminal doors and a bit to the left, costs 140 dinars and leaves the airport every hour on the hour. It stops at the central rail station and at Slavija Square, where taxis are easy to find and many hotels are within walking distance.
Central Belgrade is fairly compact, so walking to key points of interest will rarely take more than a half hour, and often less. City taxis are abundant, cheap and well-metered, and can be hailed in the street or at major hotels and squares. Rides around central Belgrade should run 150 to 200 dinars. A trip to the popular raft-clubs along the Danube and Sava Rivers costs around 250 to 350 dinars.
Taxi drivers may or may not speak English (you can ask them with a well-rehearsed "Da li govorite Engleski?"), so it's always best to take a marked map or a written address for the driver. A list of taxi companies and other useful information can be found at the Web site of the Tourist Organization of Belgrade, www.tob.co.yu.
Where to Stay
With the few noted exceptions, dial 381-11 before the numbers below from outside Serbia and Montenegro. Hotels often quote prices in euros, but not necessarily.
Le Petit Piaf, Skadarska 34, 303-5252, www.petitpiaf.com, was opened last year in the heart of Belgrade's small but lovely (and lively) old bohemian quarter. This pioneering boutique hotel offers 12 sleek, modern rooms and suites with phones and high-speed Internet access - a local rarity. A good breakfast is included in the room rates, which start at 150 euros ($183, at $1.22 to the euro).
Hotel Moskva, Balkanska 1, 2686-255, www.hotelmoskva.co.yu, occupies a stately Art Nouveau building that is one of Belgrade's most recognizable landmarks. Equipped with TV's and phones, the 132 rooms themselves are unexceptional, as is the included breakfast. Doubles from 136 euros.
Previous Page
1
2
3
4
5
Next Page