Belgrade Rocks
(Page 5 of 5)
Garni Hotel Splendid, Dragoslava Jovanovica 5, 323-5444, www.splendid.co.yu, is a good budget option in central Belgrade, if you can handle the dated 1970's feel. The 40 simple, clean rooms have TV's and phones. There's also a restaurant and bar on the premises. Doubles from $58.
Where to Eat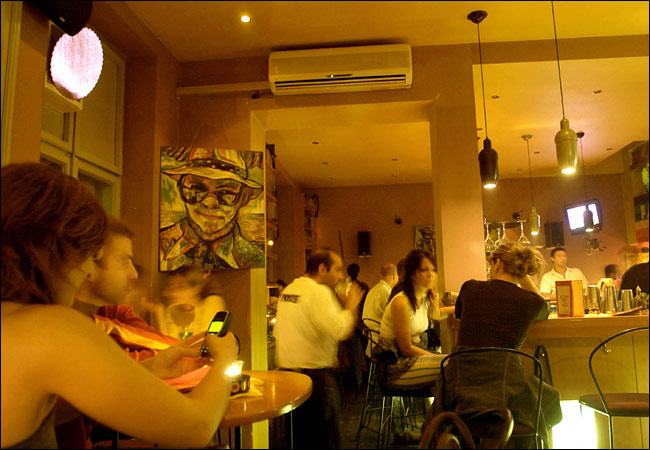 Daco, Patrisa Lumumbe 49, 278-1009, attracts a crowd with its ersatz rustic environment - raw wood-plank floors, exposed beams, farmhouse knickknacks- and huge portions of sopska salata (diced cucumbers, peppers and cheese) and hajducki cevap (pork kebabs) backed with rakija (fruit brandy). Dinner for two, without drinks, is around 2,000 dinars.
Zaplet, Kajmakcalanska 2, 240-4142, is a beautifully designed contemporary space with large windows, lots of right angles and muted fabrics. The extensive menu features appetizers like grilled goat cheese with red pepper and caper salsa, and entrees like filet mignon with gorgonzola-hazelnut butter. Dinner for two runs about 2,500 dinars, without drinks.
Tribeca, Knez Mihailova 50, 328-5656, is a strikingly modern and aggressively stylish restaurant-lounge with its own CD of club music ("Tribeca Chill-Out"). You can enjoy the grilled, bacon-wrapped chicken filled with prosciutto, mozzarella and sweet peppers, then stay for cocktails. Dinner for two runs 2,200 dinars, and cocktails 350 dinars.
Where to Drink
Ben Akiba, Nusiceva 8, 323-7775, is a lively cocktail lounge hidden in a second-floor apartment roughly across Terazije Street from the Hotel Moskva. Go to the end of Nusiceva, turn right and look for the apartment stairs to the left.
Club of World Travelers (Udruzenje Svetskih Putnika), 29 Novembra 7, 324-2303, is yet another of Belgrade's many hip, hidden bars. Enter this quiet residential building, go to the end of the lobby and descend the stairs to the right.
Idiot, Dalmatinska 13, no phone, attracts Belgrade's alternative set - musicians, artists, self-styled hipsters and a smattering of gays and lesbians. This indoor-outdoor bar fills the street in summer and packs its brick-vault basement when the weather gets cool.
Where to Dance
In summer, the banks of the Danube and the Sava are lined with splavovi - nightclubs on rafts - featuring everything from Gypsy bands to electronic music to a distinctly Serbian mixture of sentimental lyrics and disco beats called Turbofolk. Many places charge no cover, or at most 5 or 10 euros.
One of the top spots for imported D.J. talent is Exile, Savski Kej, (381-63) 205-545, which sits along the west bank of the Sava.
True to its name, Andergraund, Pariska 1a, 625-681, www.andergraund.com, is a subterranean den of decadence near the southwestern corner of Kalemegdan Park for house, funk, R & B and hip-hop devotees.
Around the corner and down the hill from Andergraund, at Karadjordjeva 9, is Bar Balthazar, (381-63) 706-3302, which opened in September. A nondescript doorway, guarded by bouncers, leads to a staircase down to the brick-roofed basement. Despite the name, Balthazar is more club than bar, with thundering house and techno beats.
Where to Rock
Akademija, Rajiceva 10, 262-7846, www.akademija.net, is a longtime favorite rock 'n' roll dive for top local talent.
SKC (Student Cultural Center) at the corner of Kralja Milana and Resavska Streets, 360-2000, www.skc.org.yu, features major bands not only from the Balkans but also from the rest of Europe and North America on indoor and outdoor stages. It also puts on art exhibitions, films and other cultural events.
Dom Omladine (Belgrade Youth Cultural Center), Makedonska 22/IV, 324-8202, www.dob.co.yu. is a top spot for touring bands and bigger names from Belgrade.
Sightseeing
Kalemegdan Park, at the confluence of the Sava and Danube Rivers, is Belgrade's most beautiful green space. It is where the Romans, Byzantines and subsequent early settlers of the area once lived. The park houses a zoo, military museum and numerous centuries-old structures left by the various powers - Serbian, Austrian, Turkish - that occupied and controlled Belgrade in later eras.
Museum of Contemporary Art, Usce Save BB, Novi Beograd, 311-5713, www.msub.org.yu, sits just across the Sava in New Belgrade. It displays Yugoslav art since 1900. The current exhibition, "On Normality: Art in Serbia 1989-2001," looking at responses to the Milosevic years, runs through Nov. 7.
Correction
This article misstated the name of the Bohemian quarter. It is Skadarlija; Skadarska, from which it is derived, is the name of the street that borders the section.
SETH SHERWOOD is a freelance writer based in Paris.
Previous Page
1
2
3
4
5