Belgrade Rocks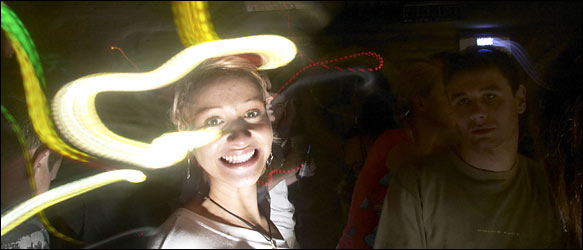 Opening night at Bar Balthazar.
By SETH SHERWOOD Published: October 16, 2005
Along the banks of the Danube and Sava Rivers, serpentine chains of music-blasting splavovi - floating raft clubs - snake into the inky Balkan night. Fortified by huge meat-kebab dinners and Turkish coffees from Belgrade's myriad cafes, crowds of night owls line up to partake variously of Gypsy bands, electronic mixes, rock 'n' roll and a distinctly Serbian hybrid known as Turbofolk.
As a parade of Puma-clad feet files down the metal gangway to a club called Exile, the night's marquee D.J., the New York City-based techno producer John Selway, prepares for his 2-to-6 a.m. set.
"The most fun places to play are here, South America and Japan!" he shouts over rapid-fire industrial beats, praising the energy of the night life in the capital of Serbia and Montenegro, the name for what is left of Yugoslavia after its unraveling in the early 90's. "They're interested in new music and in building a scene!"
Across the water, the lighted dome of St. Sava Church and illuminated stone walls of the centuries-old Kalemegdan Fortress hover over the capital's skyline. Just six years ago, during 78 days of NATO bombings intended to quell President Slobodan Milosevic's attacks on ethnic Albanians in the nation's Kosovo province, that same panorama exploded routinely in flame and debris.
This night, with Mr. Milosevic on trial in The Hague and Belgrade's doors open to the West, it's only the lights from Exile's open-air dance floor that flash in the night sky. The club's thudding sound system, not bombs, sends ripples through the river.
"I was here in the 1990's, the Dark Ages," says Dean Triantafilou, a Baltimore native, as he leads some fellow Americans to dine in Skadarska, the city's old bohemian quarter. He worked to resettle refugees after the 1991-95 civil wars that shattered Yugoslavia, and now leads tours to Belgrade. "People were selling gas in Coke bottles," he says of those years. "If you didn't spend your dinars in two hours, they were worthless," because of hyperinflation.
As he talks, girls in short skirts and high-heeled sandals wobble up the teeming cobbled street. The nostalgic minor-chord strains of Frank Sinatra's "My Way" float from the hands of an outdoor pianist, whose earnest airs collide with techno music blasting from a nearby lounge called Red Bar.
"Now look," Mr. Triantafilou says. "There's light, there's people. They're ready to party."
This November, it will be 10 years since the Dayton Accords ended the vicious ethnic war in neighboring Bosnia, and it has been five years since Serbia's "October Revolution" - when thousands of protesters flooded Belgrade's squares, burned the Parliament building and forced Mr. Milosevic to abdicate his stranglehold on a country that he had plunged into violence, economic ruin and international isolation. But Belgrade's 1.5 million residents are still waiting for the world to show up.
Consider, for example, what the Serbia and Montenegro chapter in Fodor's latest "Eastern and Central Europe" guidebook says about Belgrade: nothing. There is no such chapter. Ditto for "Rick Steve's Best of Eastern Europe 2005," which gives no travel information on the city and offers only a cursory sketch of the nation's history. The book's maps mysteriously end at the Bosnian and Croatian borders, with only empty whiteness beyond.
Such omissions, alas, are nothing new. Recalling his misguided prejudices before his visit to Belgrade in 1937, Henry Andrews, the husband of the British journalist and consummate Balkan chronicler Rebecca West, remarked to his wife: "I had always thought of Belgrade then as the Viennese see it. As the end of the earth, as a barbarian village." It was scarcely just the Viennese.
West did more than anyone before or since to dispel such illusions and to fill in the blank maps of Balkan life and history. Her magisterial tome "Black Lamb and Grey Falcon: A Journey Through Yugoslavia," published in 1941 and including her husband's reaction to Belgrade, remains the definitive travelogue about the region and your best travel companion in the city. Treading streets lined with mysterious Cyrillic signs, passing the venerable Art Nouveau exterior of the Hotel Moskva, gazing at the sad-eyed Byzantine saints of the Orthodox Cathedral of St. Michael the Archangel, you can still see Belgrade as West did.